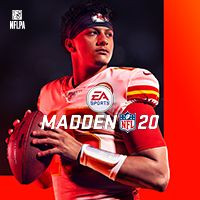 Buy Madden Giftcards
Madden NFL 20 is an American football video game based on the National Football League (NFL), developed by EA Tiburon and published by Electronic Arts.
About Madden 20
Be the Face of an NFL franchise where the decisions you make matter in your journey to become an NFL Superstar in 'Face of the Franchise: QB1.' Feel the emotion, personality, and power of NFL Superstars with 'Superstar X-Factor,' an all-new abilities progression system that reveals special abilities for today's most exciting NFL Superstars heightening the level strategy and excitement in every game.